Look what I found in my Email Box–well one of my emails. Like so many of us, I have several email accounts. This lawn company is taking advantage of USPS Informed Delivery Ads!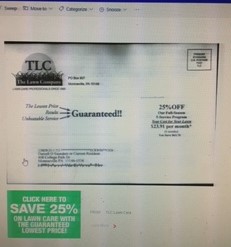 Have you signed up for Informed Delivery on the USPS.com website?
I did and now every day I get a preview of mail pieces that will be delivered to my mail box. I LOVE my mail, of course! and happy to get a sneak peek.
How does Informed Delivery work?
The United States Postal Service® (USPS) digitally images the front of letter-sized mail that runs through their automated mail sorting equipment. USPS is now using those images to provide digital notifications to users in advance of the delivery of physical mail.

What will You see?
You will receive a daily email containing images of up to 10 pieces of incoming letter-sized mail that is arriving soon. These images are also accessible on the Informed Delivery dashboard at informeddelivery.USPS.com. Only the first 10 pieces of mail appear in the email at this time. The remaining mail images can be viewed on your dashboard. This measure helps limit the size of emails being sent to users. Additionally, participating mailers can supplement their digital mailpiece with a clickable and interactive color image below the grayscale image, or provide an image to replace the grayscale image.

Some mailpieces (e.g., catalogues or magazines) are not imaged by our automated equipment and will not appear in your Informed Delivery notification. If a scan is detected on these types of mailpieces, users will see a message stating, "A mailpiece for which we do not currently have an image is included in today's mail."
For any item with USPS Tracking®, including items such as Certified Mail® and Registered Mail®, you are able to view the delivery status in Informed Delivery notifications. You can also provide USPS Delivery Instructions®, manage notifications, and schedule redelivery from the dashboard and receive USPS Tracking updates for incoming packages via separate email or text notifications.
The dashboard displays mail images for a seven-day period, and package information displays for 15 days after each package has been delivered. Users can opt-in to receive separate email or text notifications with status updates for incoming packages, too.
Informed Delivery is also available to consumers that have a PO Box.
Smart Mailers, like this lawn company, can market to Informed Delivery recipients….
And when I click on the Coupon it takes me to Landing Page like this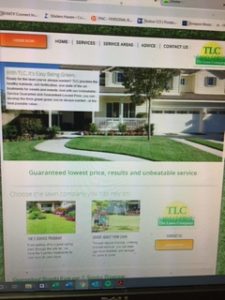 You don't have to feature a click through landing page—you can just register an image of your mailpiece and it will offer exposure in recipient's email box.
To Participate, the process is simple; you create and send the normal hardcopy mail, then provide USPS with your image content and web address. There are two ways you can run informed delivery campaigns:
Ride-along Image and Target URL:, such as the example I show or just
Representative Image, in which, your images are static, they are not clickable. The images must be clearly branded and must be directly related to the hard copy mail piece. Images are optional for letter-size mailings; but required for a flat-size mailing.
Learn more here https://www.usps.com/business/informed-delivery.htm?utm_source=informeddelivery&utm_campaign=informed-delivery-mailers-spring17
Or contact me, Direct Mail Darci